Carmignac's Note
The failure of central banks raises the question of whether fiscal stimulus is needed
Despite years of quantitative easing and unprecedentedly low interest rates, monetary policies have not managed to prevent economic growth from disappointing almost everywhere for the past eight years.
This failure has three repercussions. The first is the most benign: what should have been a temporary and exceptional countermeasure to the great financial crisis is becoming a permanent feature. Central banks are being pushed into maintaining ultra-accommodative monetary policies. The markets are delighted, but the problem for the real economy is that these policies are increasingly coming up against the law of diminishing returns: their impact fades as interest rates hit extremely low levels.
The second consequence is the increase in economic risk: even if interest rates were to stay low forever, poor nominal growth would hinder countries from reducing their financial imbalances. At the same time, the banking industry's business model has been shaken to the core. The question of the sustainability of debt and the banking sector's weakness in an environment of overly low growth rates presents a significant risk to global financial stability in future. The threat to the credibility of central banks, who charge ahead regardless, merely adds to this risk.
This leads on to the third consequence of central bank failure: pressure is now building on governments to retake control through fiscal and budget policies. Economic growth is again becoming a key political issue in busy election calendars and – with pressure coming from voters who have been left behind for eight years – is fuelling calls from all sides for economic stimulus.
For fixed income and equity markets alike, this would constitute a pivotal paradigm shift after eight years of following the same doctrine, largely influenced by the effect that central bank intervention has had on financial asset prices. This transition – however hypothetical it may be for now – therefore merits attention from investors with a view towards risk management.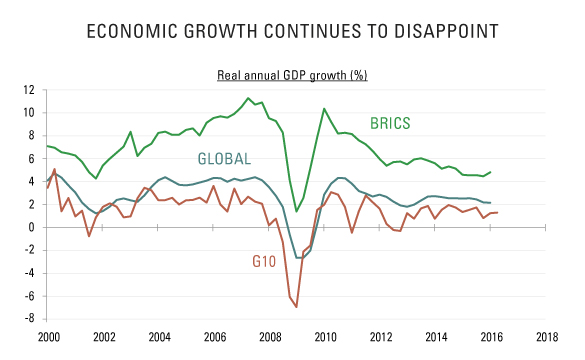 Budgetary turning point?
Since the beginning of the year, the bulk of US growth has come from consumer spending. As we anticipated (see Carmignac's Note for April 2016 (Dancing on a Volcano), capital expenditure in the private sector has continued to slow due to narrower profit margins and widespread production overcapacity. This being the case, there is no reason to expect investment to pick up in the near future. Meanwhile, consumer spending could start to deteriorate as a result of higher rent and healthcare costs, as well as a loss of consumer confidence, causing the savings rate to climb. US growth therefore remains vulnerable to a cyclical slowdown as potential growth has fallen down to barely 1% on a medium-term horizon. At the same time, as the presidential election approaches, public construction expenditure as a percentage of GDP stands at a historic (40-year!) low. As such, we should not be surprised that Hillary Clinton is putting forward an economic programme that includes a 5-year public investment plan totalling USD 275 billion to make up for weak private investment, and that Donald Trump has called for a "need to completely rethink the nation's infrastructure". Although Trump's parallel promise of drastic tax cuts makes his comment appear rather empty, the two sides are clearly trying to outbid each on the promise of kick-starting the economy. At the beginning of August, Japan announced a new fiscal stimulus programme estimated to be worth USD 275 billion (YEN 28,000 billion). Although the figures outlined in this programme should be taken with a pinch of salt, there has undoubtedly been a spectacular change in priorities if we think back to the country's fatal decision in 2014 to raise sales tax to 8%, which quickly plunged the Japanese economy into recession.
In the United Kingdom, it will probably not be long before the new chancellor, Philip Hammond, announces a public investment programme to offset the negative economic repercussions of the Brexit vote. Leeway varies in the Eurozone: there is a clear polarisation between Germany, which announced a budget surplus of EUR 18.5 billion (1.2% of GDP) for the first half of the year, and all the other countries, which posted excessive deficits. But after the threat to growth generated by the Brexit vote, the European Commission may become even more tolerant of countries struggling to meet the strict rules of the stability pact. Meanwhile in Germany, encouragement from bodies such as the IMF and the possibility of an imminent economic slowdown, could see Angela Merkel's government abandon its traditional reluctance to share the fruits of its sound management with its taxpayers through tax cuts or spending increases, bearing in mind next year's elections.
What about the prospects for the markets?
The "passing of the baton" from monetary to fiscal stimulus is by no means guaranteed. In the United States, it can take a long time for action to follow words, especially if November's Congressional elections produce a Republican majority. In Europe and Japan, moving even further away from conventional financial policy would require a degree of political courage to which we are unaccustomed. Bond markets now reflect this scepticism: US 30-year government bond yields remain very close to their all-time lows as the summer draws to a close. However, the outperformance of industrial and cyclical equities since the troughs of January and February reflect much more hope. As such, bond markets could still hold up if the economy disappoints, although at current levels their remaining upside potential would be very limited. Equity markets, on the other hand, would abandon cyclical stocks in favour of more defensive investments. However, should convincing fiscal stimulus materialise, equity markets could find the support that they are currently lacking – although cyclical stocks have already benefitted greatly from expectations in this regard – though the bond market would be highly vulnerable. All the more so as some US inflation pressure will build up between now and the end of the year, adding to the end of the deflationary shock caused by the oil price slump in 2015.
At this stage, risks have therefore become adversely asymmetric for bond markets. Conversely, the extension of highly accommodative monetary policies and the possibility of economic support packages are keeping the outlook comparatively brighter for equity and credit markets. This justifies our choice to maintain our exposure to these markets a while longer. We will nonetheless bear in mind that pressure on interest rates would soon weigh on the valuation of these asset classes. This assessment encourages us to be doubly alert over the coming months in view of developments in the monetary/fiscal policy complex.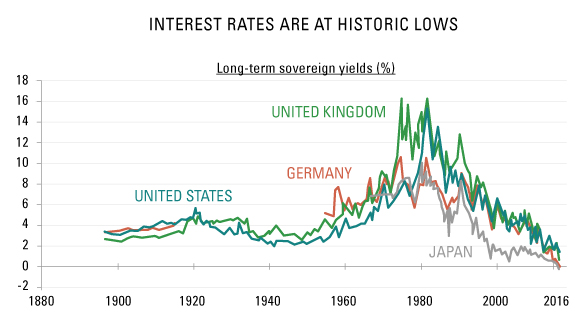 The Long and Winding Road
Will never Disappear…
The Beatles
Investment strategy
Currencies

The summer brought a lull on the foreign exchange markets, with the dollar and yen more or less stable against the euro and the pound sterling weakening only very slightly. The highlight of August was the Chinese yuan's renewed depreciation.

Our currency strategy took full advantage of this through its short positions on the renminbi and hedging of the pound sterling. We also kept a balanced allocation to the euro and US dollar, along with a small position on the yen.

Fixed income

Credit spreads continued to narrow during the summer, benefitting our allocation to corporate bonds. We seized this opportunity to take some profits at the end of August. In contrast, government bond yields remained stable overall after rallying in June.

In the absence of any additional capital gains, our increased allocation to emerging market sovereign debt enabled us to garner some yields. As we see inflation edging up further in the United States, we have positioned ourselves to manage this risk through short positions on US interest rates. Our modified duration is thus moderate.

Equities

After rebounding strongly in July, equity markets made more limited progress in August. Emerging markets posted the best performances as the Chinese economy stabilised and commodity prices picked up. The favourable liquidity situation after the Brexit vote (with negative real interest rates and a return to quantitative easing in the United Kingdom) prompted us to significantly increase our equity allocations from June onwards, in order to be able to reap the full benefits of this rally. We also raised our emerging market exposure in August.

We actively managed our stock selection, taking profits on technology stocks including LinkedIn and Liberty Global, and introducing new companies with their upside potential intact, such as Charter Communications. We also built up positions in cement makers able to benefit from renewed capital expenditure on infrastructure, such as Cemex and Lafarge-Holcim. Selectivity remains key at a time when global growth is still mediocre and uncertain.

Commodities

Carmignac Portfolio Commodities faltered in August after performing well in July. We were more selective with our oil stocks, selling several positions including Gran Tierra, Hunting and Bankers Petroleum.

Our portfolio remains focused on companies whose free cash flows are attractive over a full economic cycle, and are therefore relatively immune to short-term market momentum.

Funds of funds

Our funds of funds reaped the full benefits of their higher exposure levels and performed strongly in July, before remaining more or less stable in August. We are keeping our positioning balanced in terms of both regional and currency allocations, so as to continue generating controlled volatility.