Carmignac's Note
Seven years after 2008, growth remains weak...
After freedom of expression took a devastating blow in Paris last January, another form of liberty came under attack on 13 November: having a drink outside or watching a concert peacefully and in respect of others.
In other words, living. Politicians may be the ones to provide a united response to the terrorist threat.
But each one of us must, in his or her own way, deny the murderers any kind of victory by remaining freer than ever.
While the simple act of being may be considered a paltry form of resistance in the face of such barbarism, it is herein that one of our most cherished values can be found – however modestly applied – in our daily lives.
For many of us in the business world, this consists in resisting all kinds of pressure – often from a majority of our peers – in our freedom of thought.
It means feeling free to defend our beliefs, even tenaciously so; changing them if necessary, or acknowledging mistakes and being brave enough to correct them.
This may require a little stubbornness, but who said that remaining a free spirit was easy? For their part, investors should now make sure they haven't become slaves to their own habits.
Most often find it difficult to abandon strategies that have served them well for a long time.
For proof of this, one need look no further than the damage inflicted by each trend reversal, such as when technology (2000), financial (2008) and commodity (2011) stocks lost their respective leads.
We now believe there is reason to question the market's trend of the last seven years.
The US market has failed to appreciate the risk of the economy slowing again
Corporate earnings started to fade in the third quarter because although the interest rate cycle is only just about to begin, the economic cycle is already seven years old. Profit margins had been improving considerably until recently, reaching historic levels as payroll costs and interest rates fell.
Now, a lower unemployment rate is starting to push wage costs back up, and the interest rate trend will reverse, and consequently profit margins will fall inexorably, especially if the dollar strengthens. This means that corporate investment will weaken as a source of growth. Could consumer spending take over?
Until recently, falling payroll costs did not threaten a very resilient level of consumption, supported by downward trends in the savings rate and financial expenses. In the past three years, though, the savings rate has stopped falling (the famous wealth effect has disappeared) and consumer confidence (measured by the Conference Board index each month) started to drop since the beginning of the year.
So even with average income slightly higher, it is very unlikely that US consumer spending will gather pace. Exports are also looking highly vulnerable as a growth driver. This is because Chinese industrial activity is still slowing, prompting companies to get rid of their overcapacity through cheap exports, increasing pressure on US export revenues.
This global outlook is not yet reflected in the S&P 500 index (still only 2% from its peaks). One of the main reasons is that financial engineering, and in particular large share buyback plans, has continued to inflate earnings per share.
Higher interest rates, and their impact on US companies' net debt, which has increased by 80% in three years from USD 1.5 trillion in 2012 to nearly USD 2.8 trillion today, will inevitably weigh on companies' attempts to increase earnings per share.
US companies' debt relative to cash flows has surged (USD bn, S&P 1500 ex fins)
Source : SG Cross Asset Research/ Equity Quant, November 2015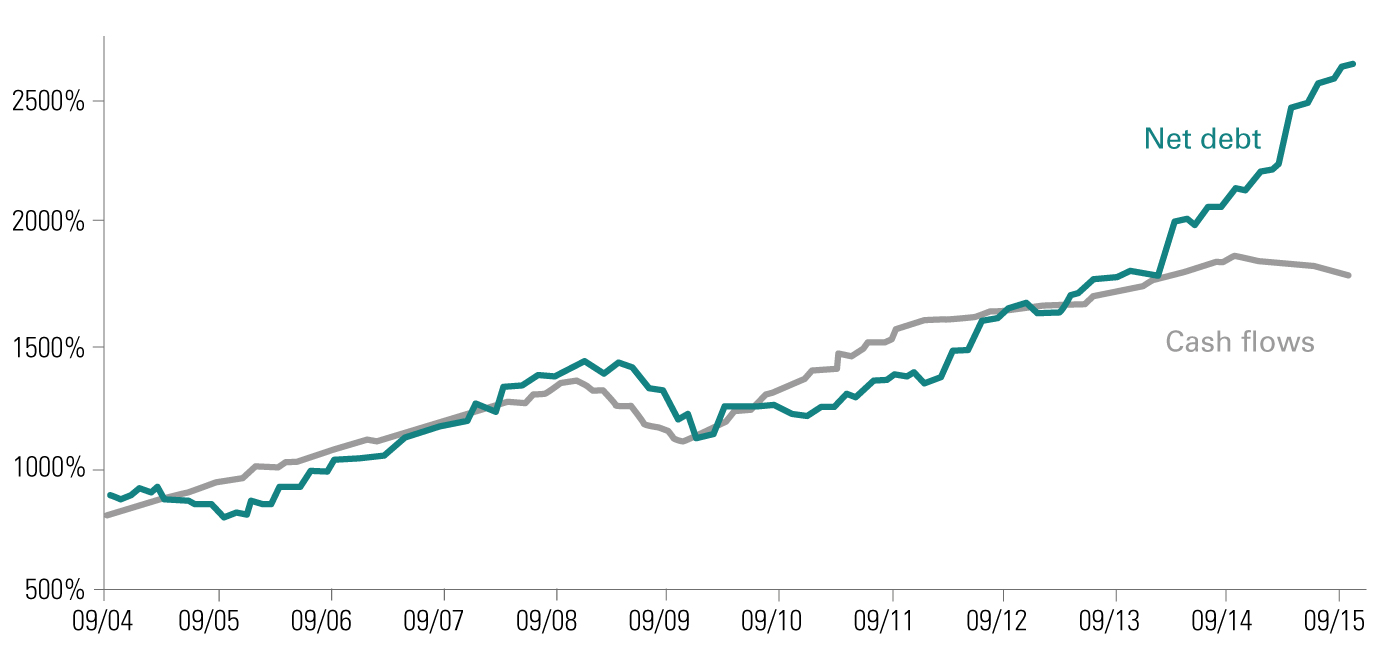 Europe's cyclical recovery since the beginning of the year has lost most of its momentum
According to the latest figures available, the recovery seems to have continued into the fourth quarter. However, there is more and more reason to think the eurozone economy will slow over the upcoming quarters.
The euro's sharp drop, collapsing energy prices, higher confidence and slight reduction in fiscal austerity are starting to lose their impact at a time when global conditions are becoming less favourable.
Meanwhile, the growth in bank lending, which had started to improve in February 2014, now struggling to make it past the annualised 1%, and even slipped back to 0.4% in October.
The trillion euros in non performing loans, which are still on European banks' books, doubtlessly has something to do with this.
France and Italy are the latest two countries to have sent encouraging signs of reform, but without yet having any notable effect on investment growth, which is still very sluggish.
It will be left to Mario Draghi to try and devalue the euro further in a bid to boost exports and spur a little inflation. Considering the global economic cycle and deflationary pressures being exacerbated by the emerging market slowdown, we shouldn't be overly optimistic about the potency of these measures.
Eurozone: balance sheet expansion is having a negligible effect on bank lending (% per annum)
Source : SG Cross Asset Research/Forex, November 2015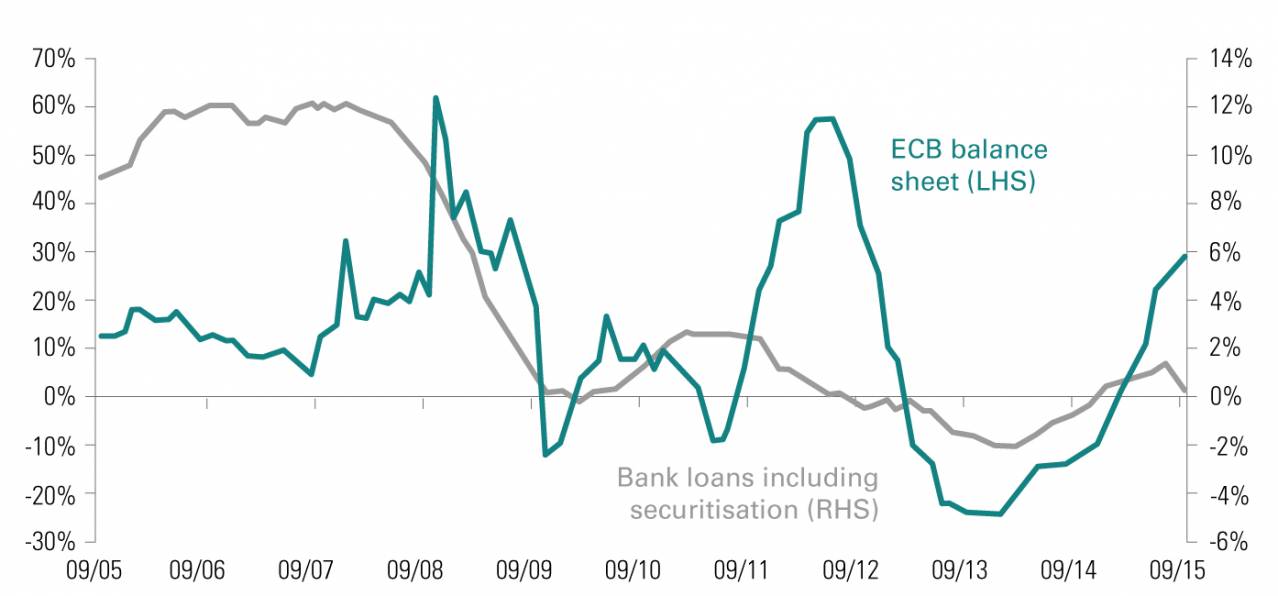 This analysis may seem alarmist or premature
But the fact remains that seven years after the deep crisis of 2008, central banks' response has produced only mediocre economic growth, while risks attached to the financial system have increased.
Faith in central banks' magical support might dampen investors' reactions to this divergence a while longer.
However, the emerging market slowdown and attempts at normalising US monetary policy make the markets significantly more fragile in our opinion.
We think the time has come for any active managers wanting to preserve capital to free themselves from indices.
This means reducing their beta, or market risk exposure, and instead focusing very heavily on alpha as a performance driver and, ultimately, an additional risk management tool.
Investment Strategy
Currencies

The euro resumed its downward trend in November. The main reason for this was the ECB's reaffirmed commitment to combating deflationary pressures at work in the eurozone.

These mounted as oil prices underwent another bout of weakness. . Emerging market currencies experienced mixed fortunes as a result, with marked depreciation for those most exposed to commodities such as the Russian rouble, Indonesian rupiah and Colombian peso.

As a result, in our forex strategy, we are continuing to avoid emerging market currencies. In the developed world, we have a slight preference for the US dollar based on the growing divergence between monetary policies each side of the Atlantic.

Fixed income

Sovereign debt yields eased in both peripheral and core eurozone countries. This is the consequence of heavier deflationary pressures, in response to which Mario Draghi has reaffirmed his commitment to use all of the monetary policy tricks left up his sleeve.

It also seems that investors have given up arbitrating risk between the periphery and core to concentrate on economic fundamentals, namely eurozone growth and inflation.

Our diversified, balanced positioning in eurozone government bonds therefore proved appropriate and boosted our monthly performance.

Equities

Equity markets lost momentum in November after rallying strongly in October. However, behind this lie big sector divergences, especially between technology stocks, which are still doing very well, and mining stocks, which continue to suffer from falling commodity prices.

Our regionally balanced approach centred around companies whose profit forecasts are largely independent of macroeconomic conditions still looks suited to the current market situation.

We strengthened our selection of tech stocks by buying in to JD.com cheaply after the Chinese internet distributor's share price underwent a correction in August.

We also maintained our hedges on the main global indices to keep our global funds' exposure very low. The equity component's performance thus continues to rely on arbitrage strategies.

Commodities

Carmignac Portfolio Commodities posted a slightly negative performance over the month.

We are keeping the fund's exposure low at a time when commodity markets are highly volatile and visibility is poor.

We closed a number of positions (e.g. Syngenta, Potash and CF Industries) to focus the portfolio on stocks with what appear to be the most solid fundamentals and most attractive valuations.

Funds of funds

Our funds of funds posted flat performances in November, largely because exposure levels remained cautious over the month.

As equity market volatility rose back up in November, our portfolio continued to apply a balanced multi-asset allocation alongside arbitrage strategies to target a risk/reward ratio that would be satisfactory in current market conditions.