Contact us
Funds in Focus
Pillar two: Carmignac Patrimoine, the building blocks
Building a diversified strategy through long term performance drivers
Bringing together 3 performance drivers to offer a long term investment solution through a conviction driven approach.
Our in-depth macroeconomic analysis is essential to determine the allocation amongst asset classes and the long-term investment themes. The portfolio's construction is a result of Fund managers' views and market analysis, it has no bias to any benchmark. Our disciplined bottom-up approach aims to find the best investment opportunities across all asset classes.
Long Term Beliefs
To a fund manager surrounded by European inertia, it is both comforting and encouraging to find pockets of growth. It's still out there, I've seen it
Edouard Carmignac, on his return from a trip to China in September 1993

EQUITIES
Emerging Markets


Rising living standards in emerging markets have been one of our core investment themes since 1989. We were convinced that not only China, but also that the rest of Asia and the emerging world as a whole held the potential for major growth and still do.
Challenges Ahead


Increasing life expectancy and changing consumption patterns among Millennials are likely to determine which companies will be out in front tomorrow. Those companies represent major sources of growth for our portfolio.
FIXED INCOME
European Banks
Our allocation to European financial credit dates back to 2012, as banks in the region were reregulated and forced to de-leverage and de-risk their balance sheets. Since then, European banks have slowly but surely increased their capital ratios, while their balance sheets have shrunk. As a result, financial corporate bonds have seen significant spread compression across the capital structure.


European Sovereign Debt
Since August 2012, following ECB chairman Mario Draghi's announcement that he would do "whatever it takes" to save the Euro, we have expressed a strong belief in government bonds of the European peripheral regions.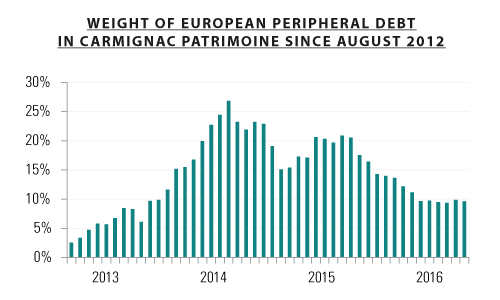 Source: Carmignac, 31/08/2016
Current Views
High visibility stocks

Today's uncertain economic and political climate maintains the appeal of non-cyclical stocks with good earnings visibility. Investors are favouring the more successful companies that focus on secular growth trends and are able to outperform the wider market, no matter which phase of the economic cycle.  

Innovation and more importantly growth are the life blood of Technology and Internet companies. Carmignac's investments within the sector focus on companies which we believe are able to create additional long term growth drivers. Secular growers like Amazon and Facebook are good examples of firms which are able to deliver long term performance and navigate in a weak growth environment.

Energy stocks

Today's volatile markets are a source of new opportunities. This is particularly true of the energy industry, where plunging prices have offered an excellent entry point at the beginning of the year. After investors' capitulation, the brighter outlook of the oil sector has led us to a rigorous stock picking of high quality companies.

Emerging markets

Emerging equities

After the stormy weathers of 2015, emerging markets were back in positive territory benefiting from a more clement economic climate. We have reinforced our exposure through a rigorous investment process, which enabled us to perform over the whole market cycle.

Emerging sovereign debt

With the dollar no longer strengthening, the Fed not aggressively moving in on rates and Chinese demand stabilising, a carefully chosen allocation to emerging sovereign debt (primarily commodity driven) has enabled us to include cheap debt at interesting coupon yields, in particular in Brazil, Mexico and Argentina.

European banks

European bank credit should remain among our main performance generators. The de-leveraging and de-risking that the sector is witnessing is set to continue and is a very supportive fundamental argument for the national champions within the financial credit segment.
NEXT
Pillar 3: Carmignac Patrimoine, the cornerstone